In the Wake of Dobbs v. Jackson Women's Health Organization 
From the Rheumatologist article: Since the Supreme Court ruling in June 2022 overturning 50 years of precedent protecting abortion as a constitutional right (Dobbs v. Jackson Women's Health Organization), states are enacting and implementing new laws to regulate abortion, and medical organizations and healthcare providers are assuming the large task of understanding what the new laws mean for their practices and patients.
According to Michael D. Lockshin, MD, professor of medicine and obstetrics-gynecology, Weill Cornell Medicine, and director emeritus of the Barbara Volcker Center for Women and Rheumatic Diseases at the Hospital for Special Surgery (HSS), New York, the aftermath of the Supreme Court ruling can be summed up in one word—chaos.
"There is no uniformity of legal standards and hospital rules," says Dr. Lockshin. "Some hospitals require a board to approve a termination even when a patient is desperately ill, while others refuse all terminations, and some leave it to the doctor's discretion."

Overcoming the Uncertainties of Living with Chronic Diseases like Lupus  
From the Lupus Research Alliance: Uncertainty and unpredictability are among the greatest challenges for people with lupus and other chronic diseases, according to renowned rheumatologist and lupus expert Dr. Michael Lockshin.  The discomfort of not knowing starts with the search for a diagnosis and continues through the unpredictable course of the disease over a lifetime.
Dr. Lockshin recently led a two-day workshop at the Hospital for Special Surgery called, "When A Diagnosis Has No Name," attended by a multidisciplinary group of experts with the goal of examining uncertainty and identifying opportunities for improvement.
***
When asked his overall advice to people living with lupus and other chronic diseases, Dr. Lockshin emphasized: Communicate, communicate, communicate — and make sure your doctors do as well.  Conquer uncertainty by controlling what you can and remain optimistic. Keep saying to yourself, 'I will get through this.'"
"Living life one day at a time is a great way to approach living with a chronic disease like lupus," concluded Dr. Lockshin.

From the article:
"In Dobbs v. Jackson Women's Health Organization on June 24, the U.S. Supreme Court overturned Roe v. Wade, rescinding the protection of the right to safe and effective abortions and putting women's reproductive health under the purview of the states. Abortion is likely to remain legal in only 20 states and the District of Columbia, and bans have already gone into effect in at least 24 states.1 Another effect: Pharmacies have begun refusing to fill prescriptions for methotrexate, an essential medication for patients with rheumatic disease, because it could also be used as an abortifacient prior to nine weeks of gestation.
When Michael D. Lockshin, MD, was a first-year medical student (Harvard Medical School, Boston, Class of 1963), he recorded data on pregnancies and deliveries at Boston Lying-In Hospital (now Brigham and Women's Hospital). In what proved to be a catalyst for a long career of research in reproductive health and rheumatic disease, Dr. Lockshin encountered a pregnant woman with systemic lupus erythematosus (SLE). The patient and her baby, unfortunately, died in the hospital. At the morbidity and mortality conference that followed, the faculty had few answers to questions about the case. "We don't know why, but lupus patients just die in pregnancy," Dr. Lockshin remembers hearing."

When A Diagnosis Has No Name: The Uncertainty of Lupus and Other Diagnoses.  For this SLE Workshop, Dr. Michael Lockshin discusses the purposes of diagnoses, defines uncertainty, and looks at how this relates to lupus. In this presentation, Dr. Lockshin presents highlights from The Barbara Volcker Center's April 2021 international conference regarding uncertainty surrounding diagnoses.

On May 27, 2020, a presentation for healthcare professionals was hosted by LANtern® (Lupus Asian Network) at Hospital for Special Surgery in partnership with the Chinese American Medical Society (CAMS). Joining Dr. Lockshin were Eliza Ngan-Dittgen, LANtern Program Supervisor, and Ning Lin, MD, neurosurgeon at Weill Cornell Medicine, and Treasurer of CAMS (2020-2022). SLE in the age of Covid-19 (New Thoughts)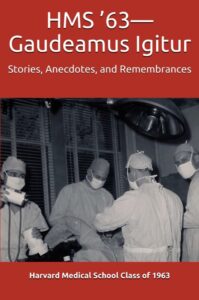 HMS '63– Guadeamus Igitur: Stories, Anecdotes, and Remembrances — Harvard medical School Class of 1963.
When classmate Don Roberts died on May 15, 2020, in Pocatello, Idaho, during the COVID-19 pandemic, a tribute written in his remembrance had a hard time finding a home.* However, searches led to our discovery that HMS allows each class a HMS Listserve website, a computer linkage in a private room, and we reached out.
The Class of 1963 responded enthusiastically with stories of themselves, anecdotes, and remembrances—so enthusiastically, indeed, that we have compiled these stories into a book. The class's diversity, at least of thought, shines through, with appropriate swaths of humor and optimism, great memories of HMS days, our awesome faculty, and awe-inspiring stories of our later journeys, both medical and personal.
We were children during World War II, students during the Freedom Marches. We were new doctors who served in Vietnam (where Bion Philipson was the first of our class to die) or elsewhere, or in the "yellow berets" of NIH, CDC, PHS, or Berry Plan, the experiences transforming many of our careers. We graduated before Medicare and Medicaid and before Roe v. Wade. We saw poliomyelitis, smallpox and measles disappear but AIDS and SARS-CoV2 came on the scene. Molecular biology, big data, and electronic medical records began to dominate our lives. Our stories reflect all of these events. They keep us humble.
Available in eBook and paperback editions: Amazon or Barnes & Noble.

The Prince at the Ruined Tower: Time, Uncertainty & Chronic Illness

Michael Lockshin's latest book, The Prince at the Ruined Tower, explores seldom discussed issues of contemporary medical practice—how should and how do patients respond when diagnoses are uncertain? How should and how do doctors respond? Or insurers and other administrators? How do each of these groups balance short-term versus long-term goals?
The Prince at the Ruined Tower is a book about patients, doctors, and the health care system written by a physician with broad experience in the world of chronic illness. Dr. Lockshin is a pioneer in solving both the medical and the personal health-care issues that arise for patients with chronic illnesses. He has done his most renowned research on autoimmune illnesses, particularly those that affect women — systemic lupus erythematosus, antiphospholipid antibody syndrome, and pregnancy-related problems of these illnesses.
"For a long time my word meant everything. Standing at a bedside, I pronounced a diagnosis. Debate would then end.
Medical students gathered round, listening to me pontificate. I spoke sagely (I thought) about my patient's perhaps rare, certainly interesting, and often difficult diagnosis. The patient, too, might listen, anxiously, as I dictated, to my students and to her, my ideas about her care.Looking back, these long ago bedside scenes are like mini-dramas of stage or television, the leitmotif of which is my certainty."  Click here to read the prologue from The Prince at the Ruined Tower.
Available in eBook and paperback editions: Amazon or Barnes & Noble or your local bookstore.
 

Dr. Lockshin's Latest Interviews With
Dr. Lockshin Talks About Patients With Lupus
Dr. Michael D. Lockshin is one of America's preeminent experts in the long-term care of chronically ill patients. He is a pioneer in solving health-care issues that arise with the illnesses on which he has done his most renowned research – systemic lupus erythematosus, antiphospholipid antibody syndrome, and other autoimmune diseases which especially afflict women.
Honoring Lupus Heroes
As part of Hospital for Special Surgery's 150th anniversary celebration, the Division of Rheumatology honored the thousands of lupus patients, past and present, who have inspired each member of the HSS healthcare team. "Honoring Lupus Heroes" celebrated patients' wisdom, generosity and invaluable contributions to lupus research and care.
Lupus Care: the Past, the Present, and the Future
From a scientific presentation at the SLE Workshop at the Hospital for Special Surgery: Dr. Lockshin addressed advances in lupus care, diagnosis and treatments by decade, beginning in 1963, the year of his graduation from medical school and continuing into the present. He also presented his thoughts on the future of lupus treatment and research.